Author: Pete Scholey
Date: 7th Oct 2018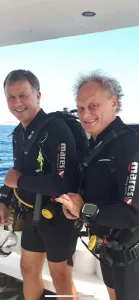 Wow. What an amazing wreck the Zenobia is in Larnaca bay, Cyprus. The water was 27 degrees and 30-40m viz. It's 180 m long and lays on its side. Fantastic for penetrating and plenty to see on the outside. Massive trucks and machinery and lots of nooks and crannies to explore. Two dives is just not enough as you could easily spend a whole week here. Turtles were around and two of the biggest lion fish scared the *insert rude word here* out of me when they decided to wake up just as I passed them!
I dived with alpha divers and their equipment is excellent.
So the first time on the Zenobia and a first set of dives using the brand new x-deep wing. That certainly made diving very easy and I think a wing may well be my next purchase. Well worth a visit if you're ever out here!
I'm on the left with my dive buddy for the day, Pete.