Author: Pete Scholey
Date: 16th June 2018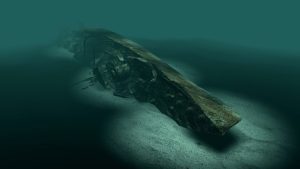 What a week in Scapa… 
bends, wrecks and awkward DSMB's.
Well, just driving back from an outstanding weeks diving in Scapa flow, Orkney Islands, with a motley crew of divers from around the region including Bernd, Tessa and I from BSAC 36. 
We dived with Emily and her excellent 
MV Huskyan
 which is almost like day diving on a live aboard, the facilities are that good! But it's the diving we went for and what an experience it was. 
Scapa is challenging for any level of diver and it certainly stretched my abilities. Twelve, 30-40m dives, in at times dark, low viz cold and strong currents meant you had to have your wits about you. That as well as watching your gas drain at depth and then wondering how much deco time you can safely accumulate meant you could never relax. 
The 
history of the wrecks
 as well as excellent detailed briefings, meant we always knew where to look providing the viz allowed it. 
The size of the wrecks can't be underestimated and we had to dive several twice to fully explore the main parts, especially the SMS Markgraf, SMS Cöln and the SMS Kronprinz Wilhelm. Seeing the size of the guns as well as the internal workings of these battleships really brought home the feeling of how powerful the 
German fleet
 was and why they took the decision to scuttle them instead of handing them over to the allies after WW1. 
But a diving trip is never a dull event and no trip is free from incidents, minor domestics and the occasional near miss and of course, lessons learned.
As I said, the trip tested my ability and whilst I was always comfortable there was the odd thing to bear in mind:
When leading a dive with three divers, make sure you remember to take them with you!!

If you think your crack bottle is tight and firmly attached to the DSMB, just recheck to make sure!

Try not to get your DSMB wrapped around the top of the shot when the tide is running fast!
Other than that other lessons to brush up on:
Don't deploy your DSMB near the safety strap of your compass. This means rapid ascent, knife to cut the line and hope you haven't gone up too far

When inflating your DSMB, put air in it and deploy. No one likes a floppy one!

When jumping in, make sure your reel is attached to you, it's a long way to the bottom……

Being an experienced regional instructor and rebreather diver doesn't preclude you from getting a bend and spending 5 hours in the chamber 🙁 (the individual involved is ok, post their treatment)
So in the end, we all survived. Came back better more experienced divers and remembering that you never stop learning in this sport and always reflect on your mistakes.