Gozo Revisited - Aug 2018
Author: Pete Scholey
Date: 7th Aug 2018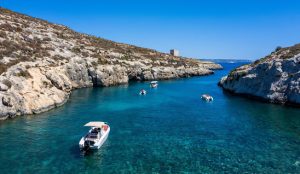 Two years ago we had our club anniversary trip to Gozo. I know I promised a warm 24 degrees when we only managed a chilly 20.
Well three dives this week and the temp was a marvellous 26/27 degrees. I even had a shorty on! I managed to do the one dive we missed on our trip, the Xlendi tunnel; it was spectacular with light shining from above.
I then joined our old dive school at Marsalforn, nothing had changed…. Well almost nothing, Patrick was still servicing regs within an inch of their live, Martin was still the dive guide and you'll be pleased to know that Matt the raging bull parted company with the centre shortly after our trip.
Martin remembered me and of course our club as the infamous boat dive with Tony, a legend on the island. In fact that skipper was in fact seriously ill and nearly died shortly after our trip.
Back to this trip, I dived the P31 and the Comino caves too. Both excellent. So if you fancy coming back to Gozo then perhaps August's 27 degree water temp might be for you.