Egypt – Northern Wrecks And Reefs – February 2019
Author: Ash Jessop
Date: 24th Feb 2019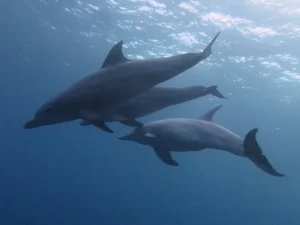 A group of 4 divers (3 from Sheffield Scuba and 1 from Sheffield Hallam Students Union Sub Aqua club) took advantage of a late booking deal on a Liveaboard departing from Hurghada, Egypt. The trip was booked 1 week prior to departure which wasn't the ideal preparation, but everything was arranged with ease and kit was urgently checked and assembled. There were several kind offers of loaned kit from other club members, just one of the advantages of belonging to the club.
We flew to Hurghada and were swiftly transferred to the boat mooring. Our home for the week was the M/Y Blue Adventurer, a 32m yacht fully equipped for 22 Divers. The accommodation and food on board were excellent and the crew very friendly and helpful.
Diving in the Red Sea was a new experience for me, though the others had dived there previously, one of them many times. On the first day we had two dives, the first being primarily to check our kit before we sailed further afield. The days that followed allowed 4 dives per day. A typical day started with a knock on the cabin doors at 06:00, dive briefing at 06:30 and in the water for 07:00. After the first dive we had breakfast, then the next dive at approx, 11:00 (followed by lunch), an afternoon dive (followed by snacks and smoothies) and then a Night Dive followed by Dinner. Eat, Sleep, Dive, Repeat! Our remaining energy was then spent playing card games on the mid-deck, being gently rocked in the middle of the Red Sea.
The diving included several wrecks, with the Thistlegorm (a British naval vessel sunk by the Germans in 1941) being a highlight though my personal favourite was the Ghiannis D. The wrecks when dived at Night were quite eerie. The sea life was abundant on all dives, we were always presented with a stunning display of colours and activity. We saw Moray Eels, a Turtle, Eagle Rays, Blue Spot rays and a vast array of fish and other creatures. On two separate occasions we were fortunate to swim with dolphins and it was hard to distinguish the dolphin noises from the squeals of excitement from my buddy.
Across the week, we completed 20 fantastic dives. The intense diving enabled me to learn and to gain a better understanding and familiarisation of my kit. It was also an opportunity to dive comfortably in a wetsuit instead of the drysuit diving in the UK.
The trip was enjoyed by all. For me, it really was a fantastic and memorable experience. I feel very privileged to have swum amongst so many sea creatures and thankful that this opportunity came within approximately 2 years of contacting Sheffield Scuba and starting my Ocean Diver Training.